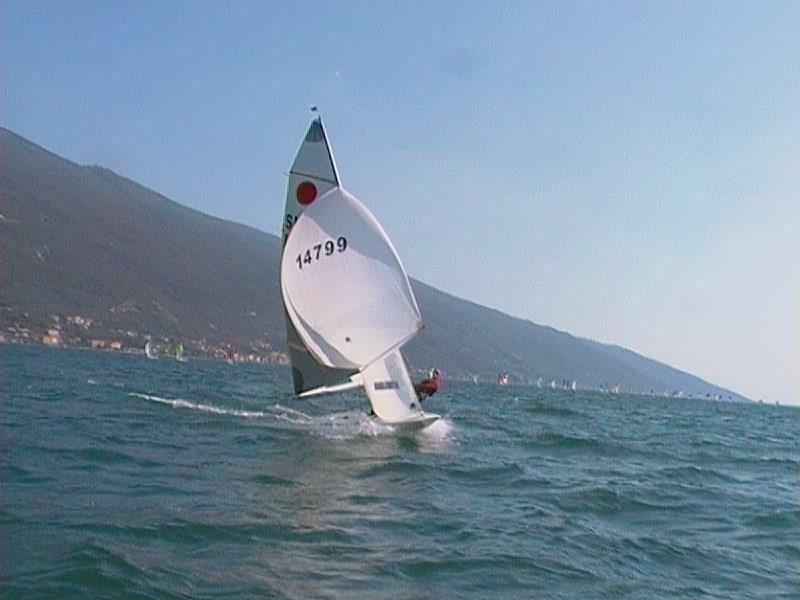 Claude Mermod and Ruedi Moser from Switzerland win the Fireball Europeans at Lake Garda © Yacht Club Acquafresc
The European Champions are Claude Mermod and Ruedi Moser from Switzerland. With a spectacular scoreline and a consistency in the trying conditions that was impressive to say the least.
The last 2 races of the championship were held in almost classic Garda conditions, it was however still full of holes and shifts and in the first race of the day if you got planted in the middle of the course you were history. The left got away with it and the right as per the text book took those who were there in to hyper drive and were never seen again.
After the Swiss team the next three places were all filled by Czech teams with Allan and Christina Tyler being the first British boat.
The prize giving was held on the edge of the lake in the setting sun and the European fleet were invited to meet again in Lyme Regis for the 2017 European Championship.
Pos
Sail No
Crew
R1
R2
R3
R4
R5
R6
R7
R8
R9
R10
Pts
1
SUI 14799
CLAUDE MERMOD & Moser Ruedi
‑12
5
1
2
4
1
2
1
‑8
1
17
2
CZE 15019
KUBOVY MARTIN & ROCEK BORAN
‑9
‑10
6
1
2
2
9
6
9
4
39
3
CZE 15131
CAP MILAN & PROCHAZKA FILIP
1
1
8
‑13
12
‑15
10
7
5
2
46
4
CZE 15040
HOJEK MILAN & PREIBISCHOVA MICHAELA
2
2
16
3
3
3
6
11
(ufd)
(ufd)
46
5
GBR 15086
TYLER ALLAN & Christina Tyler
4
3
‑21
11
1
4
18
3
‑26
5
49
6
GBR 15113
WADE DAVID & RAYNER BEN
‑22
7
2
8
5
11
1
8
10
(ufd)
52
7
GBR 15120
HOREY VINCE & PLATT SAM
13
19
5
10
‑20
‑24
8
2
20
3
80
8
CZE 15110
VERNER JAROSLAV & WINELER PAUEL
7
(ocs)
15
6
9
13
13
5
(dns)
12
80
9
CZE 14931
CECHURA JIRI & CECHURA
18
‑25
17
7
10
9
11
‑35
1
10
83
10
SUI 14859
HAERDI‑LANDERER CHRISTINA & Cedric Landerer
11
4
7
20
‑27
14
14
12
2
‑21
84
11
GBR 15112
SAYCE DAVID & RUSSELL THORNE
8
‑35
3
4
‑25
21
5
25
16
7
89
12
GBR 15070
POPPLE PHILIP & Philip Popple
(dsq)
6
13
19
17
8
4
16
‑24
6
89
13
GBR 15122
HALL DAVID & MASTERMAN ALICE
10
9
4
‑21
11
‑25
12
14
17
18
95
14
CZE 15079
KORANOVA MICHAELA & MARZIKOVA LENKA
3
20
‑31
12
15
‑28
7
18
13
11
99
15
CZE 15109
NAPRAVNIKOVA KORANOVA JOHANA & NAPRAVNIK JAKUB
14
14
12
17
7
5
‑25
17
‑18
14
100
16
CZE 14827
KORAN PETR & KUASNIK MILAN
5
‑27
19
‑23
14
7
19
13
12
13
102
17
CZE 14949
MUDRA MARTIN & MUDRA
6
‑29
11
16
6
19
‑42
24
27
9
118
18
GBR 14946
BARKER ANDY & BARKER JACKIE
15
8
‑27
26
8
20
16
21
‑31
22
136
19
GBR 14791
GOACHER STEVE & CHESNEY STEVE
‑28
13
18
9
21
10
‑29
27
23
25
146
20
ITA 15084
BRESCIA PAOLO & STROBINO ARIBERTO
27
17
9
22
16
‑37
17
‑28
25
20
153
21
SLO 14989
Kocjancic Matija & Kocjancic Marko
(dnf)
12
35
15
18
17
3
4
(ufd)
ufd
160
22
CZE 14809
JANDEROVO KLORA & BIDLOVA JITKA
16
‑32
‑32
14
19
27
24
30
22
8
160
23
GER 14508
NOLLE JORG & LEEMANN ROGER
20
23
10
25
26
12
(dns)
(dsq)
21
24
161
24
CZE 15108
SNAJDR MILAN & SNAJDR MATEJ
23
30
‑38
32
22
6
26
(dns)
7
17
163
25
CZE 14981
JEDLICKA JAN & STRONC JAN
19
22
22
28
13
‑39
31
26
11
(ufd)
172
26
CZE 14820
STRUNCOVA MICHAELA & SKODA MICHAL
25
26
23
(ufd)
24
30
21
10
15
(ufd)
174
27
ITA 15054
PALERMI FABIO & CAPIZZI ANTONIO
30
21
34
5
(dsq)
29
23
‑40
3
32
177
28
RSA 14904
PARKER ANTHONY & PARKER DIANE
26
28
26
27
‑29
16
28
23
‑33
23
197
29
ITA 14895
BORZANI STEVEN & Matteo Brescia
‑37
33
30
33
23
‑40
20
37
4
19
199
30
BEL 15039
MEYNENDONCKX BART & DE ROECK FRANCIS
21
15
28
‑41
‑37
18
22
31
36
29
200
31
ITA 14953
LEONE GIORGIO & Vincenzo Roselli
33
‑39
20
39
‑42
34
33
9
14
26
208
32
ITA 14382
ZORZI CARLO & marco maero
17
‑36
14
24
31
22
27
‑32
dne
30
221
33
GBR 15081
QUINLAN BILLIE & QUINLAN JESSICA
‑44
16
41
36
30
31
15
29
(dsq)
28
226
34
BEL 14445
PEERLINCK ROEL & Roel Peerlinck
‑35
31
24
29
28
23
30
34
34
(dns)
233
35
SUI 14921
MAJA SUTER BRUNNER & Thomas Boehm
‑41
11
37
18
34
‑43
36
39
29
31
235
36
FRA 14403
MINET GAOL & LE CALVEZ CHARLES
24
38
39
‑42
32
33
‑41
20
38
16
240
37
ITA 14919
BERTINI ENRICA & Umberto Cocuzza
29
24
40
‑43
36
38
32
‑44
19
39
257
38
NAM 15047
ALLERS NIKOLAI & ALLERS PASCAL
32
42
36
31
39
32
‑43
(dsq)
32
15
259
39
SUI 14863
WOSPI INES & Philipp Koebel
39
‑46
44
45
(dnf)
42
38
19
6
27
260
40
CZE 14864
VEIT MARTIN & KREJZA FILIP
31
41
29
30
‑46
35
‑45
33
28
34
261
41
SUI 15063
ERNE MIANNE & Clay Poulson
34
34
43
(ufd)
33
‑46
40
15
30
33
262
42
GBR 15056
SNOWDON COLIN & HILES KAREN
‑42
37
33
38
‑43
26
37
41
37
35
284
43
ITA 15057
MINONI ANDREA & CAMPO ERIK
38
40
25
35
40
36
(dsq)
36
‑43
38
288
44
ITA 14491
MONOSILIO MARIA LETIZIA & Francesco Ganimede
43
18
‑46
40
38
‑47
39
43
40
37
298
45
SUI 14824
GAUTSCHI THOMAS & Manuela Liechti
36
43
‑48
37
44
‑48
34
45
39
36
314
46
BEL 14829
LERNOUT BERT & LERNOUT KURT
(dnf)
(dnf)
42
34
35
41
35
22
dns
dns
321
47
ITA 13118
BORDON ZANILLO & Mattia Bordon
40
44
45
‑49
41
45
‑47
46
41
41
343
48
ITA 14305
FIORE REBECCA & Fiore Giacomo
(dnf)
45
‑50
48
47
44
44
42
35
42
347
49
SUI 14602
WIDMER FRITZ & MAUTE MENDONCA EMANUEL
46
47
47
44
45
‑49
48
‑49
42
40
359
50
ITA 14303
GRASSINI MARCO & MESSINEO ALBERTO
45
(dnf)
49
46
50
51
49
48
(ufd)
44
382
51
GBR 14843
WHITE JEREMY & ORTON GAYNOR
49
49
(dns)
47
49
54
(dns)
38
44
dns
386
52
BEL 15135
VERMEIREN THOMAS & VERDYCR MARIJKE
(dnf)
48
51
50
53
50
50
(dnf)
45
45
392
53
FRA 11059
HERNANDEZ DENIS & HERNANDEZ ESTEBAN
47
(dnf)
52
53
48
52
46
(dsq)
ufd
43
397
54
BEL 14130
VERMEIREN TOM & VAN HASSEL THOMAS
48
(dnf)
54
52
52
55
(dnf)
47
dns
47
411
55
ITA 13119
TENTONI ALBERTO & Beatrice Gillone