AUS Championships 2019
7 February 2019
3rd to 9th February 2019 - Royal Geelong Yacht Club
Geelong will be host town for the 2022 Fireball Worlds.
New AUS Fireball champs :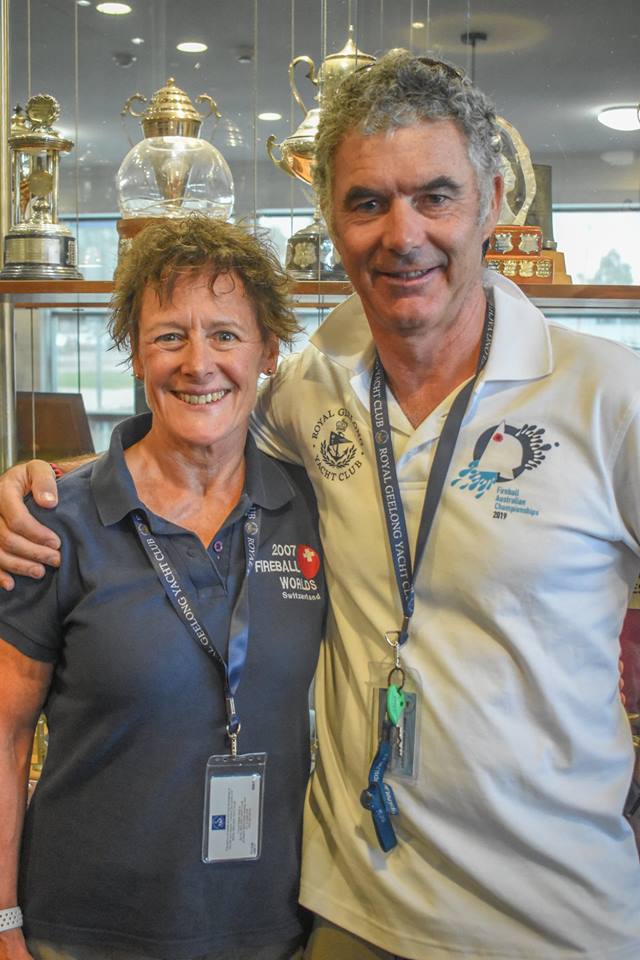 Congratulations to Heather Macfarlane and Chris Payne, sailing Not Your Average Rockstars, who have taken out the 2019 AUS Fireball Nationals.
Their score sheet was virtually untouchable and another cracking day on the water today clinched the veteran duo their third championship in the class.
Well done Heather and Chris!
Day 3:
With lighter conditions kicking off racing on Day 3, it was a game of tactics required to get results. In Race 5, Ballbreaker, skippered by Jalina Thompson-Kambas shot through early to take the win.
Race 6 saw defending national champs John Heywood and Brett Littledike run away with the bullet, giving them two race wins for the regatta and a comfortable margin for third in the overall standings.
Race 7 saw a return to form by Heather and Chris on board Not Your Average Rockstars, nabbing the bullet to give them a strong lead in the series, but with three races to go, the title is still very much up for grabs.
Last day:
After the first race of the day was abandoned due to tricky weather, Fireball sailors were stoked to end up with the best breeze of the regatta thus far with some cracking downwind rides bringing smiles to faces and Heather and Chris adding another bullet to the score sheet.
Heather and Chris on Not Your Average Rockstars clinched the overall title with a race to spare, while the Largs Bay Sailing Club's Ben Knoop and James Belton clinched Race 9.