2014 European Championships
27th July - 1st August 2014 - Lerwick - Shetland Islands
Latest News
Day Five
Homecoming Scotland 2014
Fireball European Championships, Lerwick, Shetland.
Tom Gillard & Richard Anderton (GBR 15081) are the new Fireball European Champions. In today's final day of racing they won two of the three races to win the regatta, after discard, by a 6pt margin.
In 2nd place overall are Matt Burge & Richard Wagstaff (GBR 15093), followed by David Wade & Tim Hartley (GBR 15113) with these two being separated by 3pts.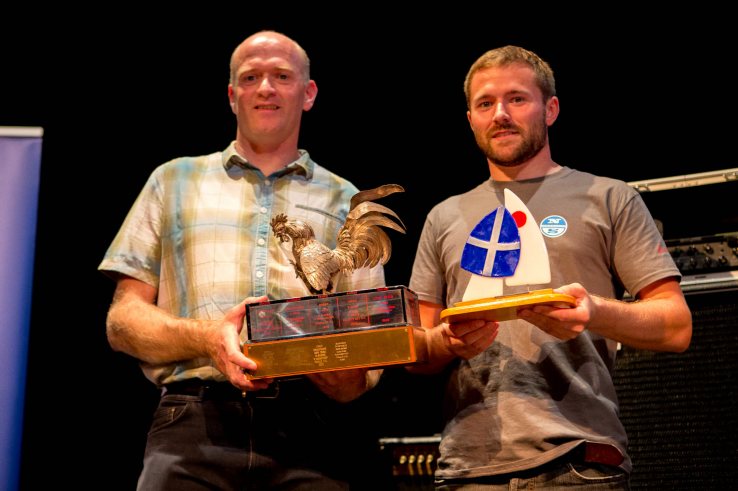 The young Irish combination, Barry McCartin & Conor Kinsella (IRL 15114) finished fourth overall, losing out to Wade by a solitary point. However, they will be buoyed by the fact that they took the last race of the regatta to break the stranglehold that the British boats had on racer wins.
In 5th place overall are the Czech combination Jaroslav Verner and Jakub Napravnik (CZE 15110).
Principle Race Officer, Bruce Leask and his team, produced a hat-trick of three-race days to give the fleet a second discard, to the relief of some. Wind today was out of the east and started a bit light but grew stronger as the day wore on, so much so that the "pumping flag" was broken out for the last race.
Burge and Wagstaff's day came unstuck with some wayward results but in truth two race wins today for Gillard & Anderton is where the damage was done to the former's campaign. Wade and Hartley too had a good day with a 2, 3, 3, suite of results.
Among the ladies, Louise McKenna & Hermine O'Keeffe (IRL 14691) in 17th were first with Maja Suter & Thomas Boehm (SUI 14921) 5pts adrift of the Irish combination.
In home fleet terms, Will'm Mouatt and Neil Fraser (SHE 14402) take the honours, their regatta highlight being a 4th place finish in Race 8.
Homecoming Scotland 2014

Fireball European Championships

Lerwick, Shetland.

Sail No.

R1

R2

R3

R4

R5

R6

R7

R8

R9

Nett

1

Tom Gillard & Richard Anderton

GBR 15081

4

2

2

1

3

1

1

1

2

10

2

Matt Burge & Richard Wagstaff

GBR 15093

5

1

1

2

1

2

7

5

4

16

3

David Wade & Tim Hartley

GBR 15113

2

4

4

4

2

3

2

3

3

19

4

Barry McCartin & Conor Kinsella

IRL 15114

1

6

6

3

4

5

4

2

1

20

5

Jaroslav Verner & Jakub Napravnik

CZE 15110

3

3

3

5

6

6

8

6

5

31

6

Jiri Paruzek & Jakub Kosvica

CZE 14551

8

7

5

6

5

14

3

27

6

40

7

Alex Taylor & Geoff Edwards

GBR 15046

6

5

7

7

27

4

5

27

7

41

8

Will'm Mouatt & Neil Fraser

SHE 14402

27

11

8

9

9

16

6

4

9

56

9

Scott Nicolson & Roger Goudie

SHE 14513

15

8

10

8

7

8

10

9

11

60

10

Frank Miller & Ismail Inan
Day Four
Thursday's racing at the Homecoming Scotland 2014 European Championships didn't happen as Bruce Leask, Principle Race officer was beaten by the elements and was thus unable to get a race in. The fleet set out for the race course shortly after 12 noon for a scheduled 13:00 start, to the backdrop of a third cruise liner in Lerwick Harbour in as many days. With a forecast of dropping wind strength as the day wore on, the omens were not good. The presence of the second largest floating crane in the world would have influenced where the race course could be set but initially this enormous piece of engineering excellence didn't influence where we might be sailing.
However, the wind refused to co-operate and despite the persistent attention of the Race Team, they flew racing's equivalent of the white flag, "N over A" shortly after 15:00. A long sail home was shortened by the mark boats offering multiple tows to the competitors.
Tonight we have the UK Fireball Association "setting out their stall" for the 2015 Worlds in Pwllheli, Wales.
Tomorrow, Friday, is the last day of the regatta and there must be the prospect of an earlier start to the day to try and recover at least one of today's lost races.
For the present though, the scoreboard stays the same, which means that Matt Burge and Richard Wagstaff (GBR 15093) lead by two points from Tom Gillard and Richard Anderton (GBR 15081).
Day Three
Principle Race Officer Bruce Leask put together another excellent day on the water for the Fireball fleet contesting their European Championship in Lerwick, Shetland. Two full races and a shortened third race were provided in winds that started at the 10 knot mark and topped out with a 23 knot gust in the final race. Racing started under grey skies and in winds that were similar to yesterday though from a slightly more southerly direction. Sunshine was also in evidence and in the middle race in particular, champagne conditions were being enjoyed - good breeze, sunshine, fast reaches and an interesting sea condition - slightly lumpy but not excessive.
Tom Gillard & Richard Anderton (GBR 15081) took two race wins, in the fourth and sixth race to the solitary race win by Matt Burge and Richard Wagstaff (GBR15093). With the first discard kicking in this combination of results leaves the pair separated by two points after six races, 7 to 9.
Due to a starting transgression, this correspondent was able to watch the middle race with a degree of comfort. It was intriguing to see these two, plus Dave Wade & Tim Hartley (GBR 15113) pull away from the rest of the fleet. Burge was like a shepherd, making sure that his flock of two didn't get too far away from him up the upwind legs. Wade and Gillard were in even closer company. Burge led the second race of the day from the start and at the first leeward mark they had a comfortable lead while Gillard and Wade were second and third respectively. Up the second beat there was no change but down the sausage it looked as though Burge and Wagstaff had blown a significant lead when they went very deep on the LHS of the sausage. The other pair had gybed earlier, also from the left hand side and seemed to enjoy better conditions as they crossed the course on a three sail starboard reach. However, by the time they got to the second leeward mark, the apparent deficit evaporated and Burge rounded ahead by a safe distance. Gillard was second and Wade third. But at the final weather mark the 2nd/3rd places changed as Wade flew bag and got away from Gillard. This order remained to the finish. McCartin and Kinsella (IRL 15114) were a distant 4th (in relative terms) while the Czech combinations of Jaroslav Verner & Jakub Napravnik (CZE 15110) and Jiri Paruzek & Jakub Kosvica (CZE 14551) never lost sight of each other as they claimed 6th and 5th respectively. The former combination had a harder day on the water as evidenced by a 5, 6, 6, in contrast to yesterday's 3, 3, 3.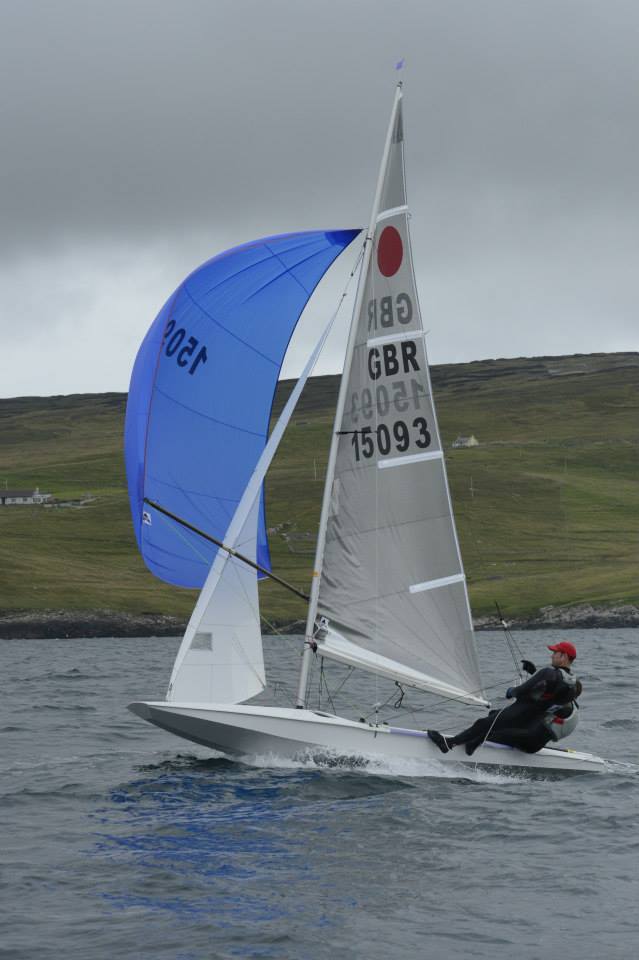 The first race was held in the most benign conditions of the day but that didn't mean that there were any new admissions to the top five club. Three British combinations, an Irish and a Czech team took the top five places again. Gillard won from Burge, McCartin, Wade and Verner. The reaches of the first triangle were very enjoyable three sail sessions and the downwind leg was equally entertaining. However, the first reach of the second triangle was curious in that the leaders didn't sail the shortest course to the gybe mark, electing instead to sail to a random point upwind of the mark. Given that the leg broadened as the gybe mark was approached, it may have been that people were trying to extend their tight three sail reach before gybing for the mark. The consequence of the slightly benign tail end of the leg was that the second reach was a lot tighter - so much so that even some of the leaders two-sailed the leg. Those that persisted with three sails found themselves being pushed to leeward and more than one two-sailer gained places by adopting this conservative approach.
Due to gear failure, this correspondent didn't see the last race of the day but the top-five club was broken into by Alex Taylor and Geoff Edwards (GBR 15046) who claimed fourth. That will compensate them for the DNF that they recorded in Race 5. Gillard finished the day as he had started, with a win. The younger Czech combination of Paruzek & Kosvica had a "blip" with a 14 which gives Verner a significant cushion on his young compatriots as the leading Czech boat.
The leading Shetland boat thus far is Scott Nicolson & Roger Goudie (SHE 14513) who scored a consistent 8, 7, 8 on day 2 which sees them consolidate a position in the top ten.
Irish combination Miller & Inan (IRL 14713) will also have enjoyed their day as a 12, 10, 9, scorecard, as well as showing a progressive daily improvement, consolidates their position in 9th and second Irish boat behind McCartin & Kinsella.
Among the lady helms, Maja Suter, from Switzerland, crewed by Thomas Boehm (SUI 14921) is in 17th place, just one ahead of Louise McKenna, crewed by Hermine O'Keeffe (IRL 14691), a place ahead of Barbara Newson, crewed by husband Guy (GBR 14872) who is, in turn, a place ahead of Maggie Adamson, crewed by Ian Adamson (SHE 144763).
With two days of actual racing, we are now back on schedule, but most people will be enjoying tomorrow's layday after the exertions of today.
Day Two
Although the seascape at 07:30 this morning suggested otherwise, Principle Race Officer Bruce Leask was able to get the three races he had programmed for the day completed here in Lerwick, thus allowing the regatta to get started. The day had started off with a postponement of one hour but shortly after 12 noon that came down and the fleet was advised to set out for the race area.
At midnight last night (Sunday), XCWeather was predicting that the wind would be WNW and very light initially but building during the day without getting into double figures. On the race course the wind direction was fluctuating around 260˚ but not be severe amounts on the start line. Three races were sailed in moderate trapezing conditions - not too severe - with the conventional Olympic course used in all three races. The first race was shortened after the downwind sausage leg but the other two, on a smaller physical course, ran their full length.
Race 1 honours went to the young Irish combination Barry McCartin and Conor Kinsella (IRL 15114) who initially were behind Dave Wade and Tim Hartley (GBR 15113), but pulled ahead on the second beat to lead and win by a comfortable margin. The podium had a three nation flavour with Wade and Hartley in 2nd and Jaroslav Werner and Jakub Napravnik (CZE 15110) in 3rd. Also included in the lead bunch that set the pace for everyone else were Tom Gillard and Richard Anderton (GBR 15081) with Matt Burge and Richard Wagstaff (GBR 15093) closing out the top five. The balance of the top ten were Alex Taylor & Geoff Edwards (GBR 15046), Maja Suter & Thomas Boehm (SUI 14921), Jiri Paruzek & Jakub Kosvica (CZE 14551), Ondrej Labuda & Karel Otto (CZE 14262) and Darren & Craig Forrest (SHE 14395). The racing was tight and there were skirmishes going on around the course but nothing excessive!
The PRO and his team had already modified the position of the weather mark in Race 1, but while we were sailing the sausage leg of that race, he also modified the position of the gybe mark, making the course smaller.
The "usual suspects" were at the front of the second race with an almost reversed order of finishing (relative to the first race). Going right seemed to pay most dividends, certainly from this correspondent's perspective. This time is was Matt Burge & Richard Wagstaff who came from behind to take the lead to win comfortably at the finish. Indeed the front five or six got away from the body of the fleet but none of them were able to close the gap on the boat in front of them. The sausage downwind produced a variety of approaches with some sailing round the mark and going right for a short distance before coming back left. Others gybed immediately. The breeze was a bit stronger but not by much. The two reaches of the triangle were challenging but the second one was by far the tighter.
After a race that lasted just less than an hour (or thereabouts) the finishing order was Burge/Wagstaff, Gillard/Anderton, Verner/Napravnik. Wade & Hartley and Taylor & Edwards were both scored 4th which must be a first! McCartin & Kinsella were 6th, Paruzek & Kosvica 7th, Scott Nicolson & Roger Goudie (SHE 14513) 8th, Louise McKenna and Hermine O'Keeffe (IRL 14691) 9th, and Frank Miller & Ismail Inan (IRL 14713) 10th.
Another quick turnaround by PRO Bruce Leask saw the third race started and delayed by the first General Recall of the day. Needless to say it was quickly followed by the first black flag start of the day though this stricter starting regime of starting claimed no miscreants! Again, going right was favoured by the "hot-shots" and this time my recall is that Tom Gillard & Richard Anderton set the pace before, yet again, Burge & Wagstaff took up the pace-setting duties. Also prominent at the head of the fleet were Alex Taylor & Geoff Edwards. This time, this correspondent was closer to the action to watch five boats fight each other for the lesser places. The downwind leg of the sausage was very competitive as boats went one way and then another is an attempt to gain an advantage. However, nobody could dislodge Burge & Wagstaff who sailed home to a second win and top spot after Day 1.
Behind them the order was Gillard, Verner, Wade, Paruzek and McCartin.
Bruce Leask and his team are to be commended for getting three races in, particularly when we only went afloat after 12 noon. Proceedings were finished around 17:30 and the completion of three races means that we are only one race behind schedule. Sunday's XCWeather prediction was for more wind on Tuesday which means there is a real chance that we could be back on programme this time tomorrow.
Homecoming Scotland 2014

Fireball European Championships

Sail

No.

R1

R2

R3

Tot.

Nett

1

Matt Burge & Richard Wagstaff

GBR 15093

5

1

1

7.0

7.0

2

Tom Gillard & Richard Anderton

GBR 15081

4

2

2

8.0

8.0

3

Jaroslav Verner & Jakub Napravnik

CZE 15110

3

3

3

9.0

9.0

4

David Wade & Tim Hartley

GBR 15113

2

4

4

10.0

10.0

5

Barry McCartin & Conor Kinsella

IRL 15114

1

6

6

13.0

13.0

6

Alex Taylor & Geoff Edwards

GBR 15046

6

4

7

17.0

17.0

7

Jiri Paruzek & Jakub Kosvica

CZE 14551

8

7

5

20.0

20.0

8

William Mouatt & Neil Fraser

SHE 14402

DNF

11

8

31.0

31.0

9

Scott Nicolson & Roger Goudie

SHE 14513

16

8

10

34.0

34.0

10

Frank Miller & Ismail Inan

IRL 14713

14

10

11

35.0

35.0
The fleet have gone clay pigeon shooting this evening. Some may have on the water frustrations to work out at that session. Tomorrow's plan is for another three races.
Opening and Day One
The 2014 Fireball Class Europeans were opened in traditional style last night in Lerwick in the Shetland Islands by an axe-wielding Viking dressed in traditional costume along with a group of his colleagues.
Shetland Class Chairman, John Manson opened proceedings with a warm welcome to the competitors, some of whom had travelled for three days with boats to get to this northern outpost of Fireball sailing. The Czech Team can lay claim to the longest journey to participate in these championships.
With further thanks to sponsors and a host of parties who have made the event possible - the Lerwick Port Authority, Northlink Ferries, Lerwick Boating Club, and principal sponsor, Homecoming Scotland 2014, John passed control of proceedings to Fireball International Class Secretary, Andrew Davies, who re-iterated the thanks of Fireball International to those parties identified by John but also the work that John and Emma Manson had put in to organising the regatta.
The microphone then reverted to John Manson who introduced the individual who was to declare the regatta open - Ivar the Boneless Ragnarsson & his Up Helly Aa Jarl Squad. Ivar and his Jarl Squad hark back to the Viking influence in the history of the Shetland and their year is focussed on the Up Helly Aa celebrations which take place in late January.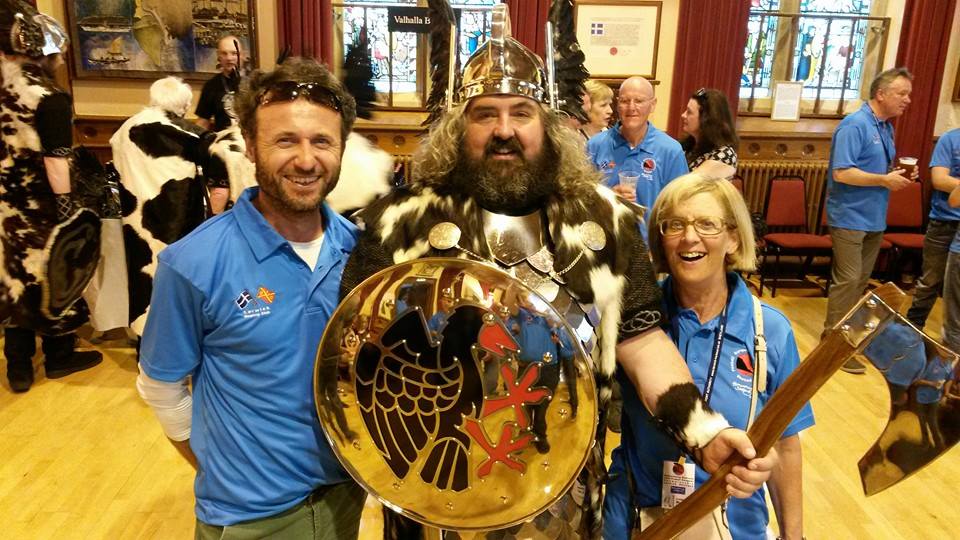 After Ivar and his colleagues had opened the regatta, competitors, officials, organisers and family members were invited to a sumptuous feast of local fish produce sponsored by Ocean Quality UK and Shetland Fish Producers Organisation, washed down with drinks sponsored by Valhalla Brewery, Britain's most northerly brewery.
Six nations are present at this regatta - the home fleet of Shetland, of course plus, the Czech Republic, England, Ireland, Scotland and Switzerland. In terms of entries we have former World Champions, Matt Burge & Richard Wagstaff (Sligo 2011), Tom Gillard (Mandurah 2012 & Slovenia 2014) and former European Champions, Burge & Wagstaff and Gillard. The English team also includes David Wade, a long standing performer at the top end of the fleet. From the Czech Republic, Jaroslav Werner and Jakub Napravnik haven't travelled for three days just to make up numbers. And from Ireland there is the "new kids on the block", Barry McCartin & Conor Kinsella who won the Shetland Nationals precursor to this week's Europeans. Also from Ireland, the man who can claim to have the longest track record of participation in international Fireball events, Louis Smyth, who will not thank me for telling how far that track record goes back.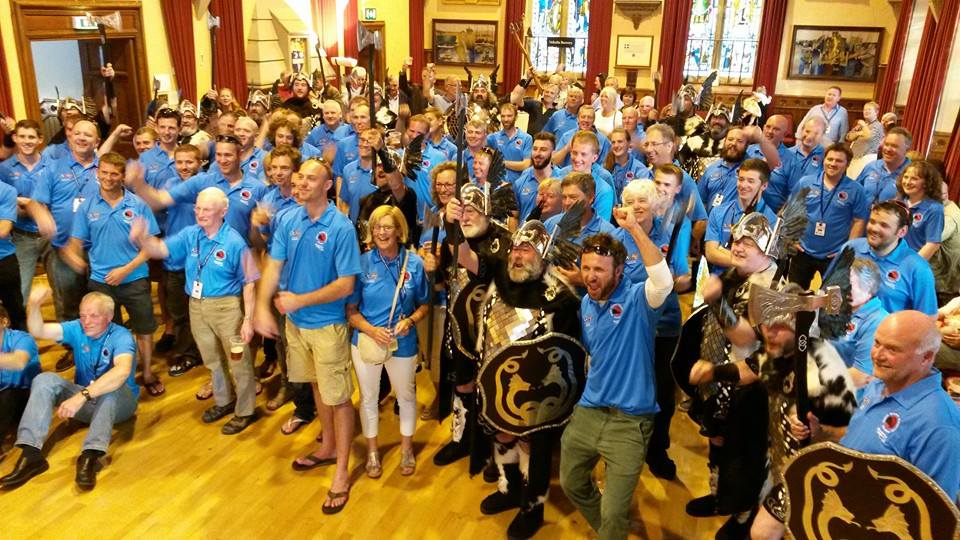 This morning, Principal Race Officer Bruce Leask's first action after the welcoming brief, from a sailing perspective, was to postpone the start by 1 hour from the scheduled 13:00 start due to a combination of light winds and fog. The foghorn in Lerwick has been active since about 07:00 this morning and had eased considerably by the briefing at 11:00, but he advised his audience that the wind was not where it was forecast to be and with a 5 knot threshold for racing installed in the Sailing Instructions, he wasn't taking any early risks with the quality of racing. He did however promise a wide range of wind conditions for the week.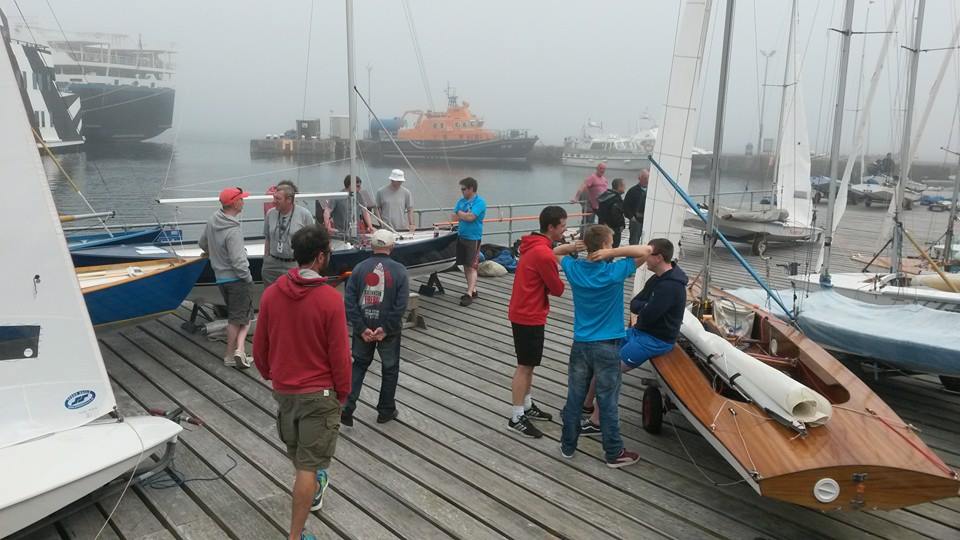 Day 1
The first day of the Fireball Europeans, sponsored by Homecoming Scotland 2014 and being hosted by Lerwick Boating Club in Shetland was lost to a combination of mist and very light wind. Principle Race Officer Bruce Leask has originally signalled a 1-hr postponement after the skipper's briefing but that became an indeterminate postponement.
An excellent fish lunch was then served at the host club before racing for the day was abandoned shortly after 15:00.
The fleet has now dispersed but many will reconvene later at the Club to make their way to a curry buffet at a local restaurant in Lerwick, the regatta's culinary choice for this evening.
GETTING TO SHETLAND
Some tips for reducing the cost of ferry travel to Shetland:-
The trailers go free so load them with as much gear, luggage and bikes as possible and deliver them to the freight ferry making sure they all are easy to manoeuvre (good jockey wheels and a means of braking). This may be a new technique for Fireball but is quite common for other classes.
A car is £144 each way and a cabin for four is £110 each way. So maximise space in cars and cabins on the ferry. Double up and advertise spare spaces in cars & cabins. The Facebook pages can help with this.
Passengers are half price £20.25 each way and a sleeping pod is £18. Consider if you actually need a car or a cabin?
Cars can be parked in Aberdeen. Consider, do you actually need a car in Shetland? The event is in Lerwick so accommodation will not be far away to allow walking and cycling.
Tow vehicles will be available in Lerwick to get your trailers the very short distance to and
from the ferry to the dinghy park.
Consider the budget car hire options available for lay days when you may want to explore. Again when you share the costs everything becomes very affordable.
Shetland is a special place. The hospitality is second to none. These tips may help you to share in what is going to be a special championship.
For further advice please contact Fireball Shetland
Andrew
Northlink Ferries have kindly offered a reduction in fares for all participants in the 2014 European Championships.
All boat trailers will travel FREE on the Northlink freight ferry, which departs Aberdeen approx. 1 hour before the ro-ro passenger ferry. For a standard Fireball trailer between 5 and 6m long, the saving will be £205.20 for the return journey based on the standard fare of £17.10/m per single leg.
Cars will then travel on the passenger ferry subject to the standard charge.
Passengers on the ferry will receive a 50% discount on the passage element of the fare. The saving will be £40.50 per person for the return journey based on the standard fare of £40.50 per single leg.
Any cabins required will be subject to the standard charge.
To obtain this discount, sailors will need to email us to receive the discount code for the event. Please send an email to fireballshetland@gmail.com to receive the code. Please insert 'Northlink Ferry Code' in the subject line.
UK based sailors should then call the Northlink reservations number 0845 6000 449 to make the booking, stating the discount code.
Overseas sailors can call this number, or email Northlink with the discount code and their requirements to: reservations@northlinkferries.co.uk
Anybody who has any queries regarding travel to Shetland should email us for all information required.
Shetland Nationals: (Free entry to all boats who enter the Euro's)
Thursday 24th July - 3 races
Friday 25th July - 3 races
(The races will be timed to allow anyone arriving in Shetland on the ferry that day to have plenty of time to prepare and rig boats)
European Championships:
Saturday 26th July - Measurement Day
Sunday 27th July - 2 races
Monday 28th July - 2 races
Tuesday 29th July - 2 races
Wednesday 30th July - Lay Day
Thursday 31st July - 2 races
Friday 1st August - 2 races,
Friday 1st August - Evening - Prize giving and large 'Final Night Party'
Saturday 2nd August - Recovery day and ferry home, although we would be happy for anyone to stay in Shetland for a few days after the championship if you wish.
Shetland lies 600 miles (960km) north of London. More than a hundred islands, just 15 of them inhabited, span the hundred miles (145km) between Fair Isle and Out Stack, the northernmost point of Britain.
This bustling archipelago of 22,500 people boasts abundant wildlife, a spectacular coastline, dozens of major archaeological sites and more geological diversity than any similar sized area in Europe. The 567 sq. mile (1468km²) county of Shetland is an entrancing mixture of Scotland and Norway.
For walkers, we have about 1697 miles (2702km) of coastline and over 500 square miles (1294km²) of open countryside, most of it accessible to hikers.
---
Travelling to Shetland
By Sea
Northlink Ferries sail a nightly Ro-Ro service from Aberdeen to Lerwick.
On Monday, Wednesday and Friday the ferry leaves Aberdeen at 7pm and sails direct to Lerwick, arriving at 7.30am.
On Tuesday, Thursday, Saturday and Sunday the ferry leaves Aberdeen at 5pm and sails via Orkney to Lerwick, arriving at 7.30am.
Check-In for the ferry is a minimum of 1 hour before departure. Please be warned that Aberdeen is very busy around that time, and plenty of time should be allowed to reach the ferry.
As with all ferry crossings, it will be much cheaper if boats can be transported using double or triple stacking trailers. The ferries are very comfortable, with a choice of 2 and 4 berth cabins, reclining seats and seating pods available.
Northlink also run a nightly Ro-Ro freight ship, which has very limited passenger accommodation, should the main ferry be full up.
Further details can be found on the Northlink website: www.northlinkferries.co.uk
Distances to Aberdeen Ferry Terminal from other ferries into the UK are as follows:
(from AA Route Planner)
Ireland: Cairnryan - Aberdeen 225 miles (363km) travel time ~ 5 hrs
Holyhead - Aberdeen 450 miles (727km) travel time ~ 8.5 hrs
Continent: Hull - Aberdeen 400 miles (645km) travel time ~ 8 hrs
Dover - Aberdeen 624 miles (1004km) travel time ~ 11 hrs
Portsmouth - Aberdeen 578 miles (930km) travel time ~ 10.5 hrs
By Air
All flights into Shetland are operated by Flybe. See www.flybe.com
Flights are direct into Sumburgh (LSI), from Aberdeen (~4 flights per day), Edinburgh (~3 flights per day), Glasgow (~2 flights per day) and Inverness (~1 flight per day).
Sumburgh is sited at the south of Shetland, and is approx. 25 miles from Lerwick.
Flybe operate to many airports throughout the UK and Europe, and it is possible to 'through ticket' to Shetland from many locations.
Flybe also have a 'code-share' agreement with British Airways and it is possible to 'through-ticket' from the likes of Heathrow or Gatwick, via a Scottish mainland airport using a BA ticket.
---
Accomodation in Shetland
There are many types of accommodation to be found in and about Lerwick during the championships, ranging from hotels, guest houses, self catering and youth hostels.
As with all good accommodation in popular resorts, we would encourage everybody to book as early as possible to get the best available.
Further details can be found at the Visit Shetland website: visit.shetland.org
A handy Shetland Visitor Guide book is also available online: Shetland Visitor Guide
If you are in doubt as to how close a property may be to the sailing area, please feel free to contact Fireball Shetland, and we will be happy to advise. A selection of accommodation available is shown below:
Hotels
Lerwick: Shetland Hotel www.shetlandhotels.com
Lerwick Hotel www.shetlandhotels.com
Kveldsro Hotel www.shetlandhotels.com
Queens Hotel www.kgqhotels.co.uk
Grand Hotel www.kgqhotels.co.uk
Scalloway (~7miles) Scalloway Hotel www.scallowayhotel.com
Guest Houses
Lerwick: Alder Lodge Guest House www.alderlodgeguesthouse.com
Glen Orchy Guest House www.guesthouselerwick.co.uk
Fort Charlotte Guest House www.fortcharlotte.co.uk
West Hall B&B www.bedandbreakfastlerwick.co.uk
Breiview Guest house www.breiviewguesthouse.co.uk
Arisdale B&B www.arisdale.shetland.co.uk
Hostels
Lerwick Islesburgh Youth Hostel www.shetland.gov.uk/islesburgh/hostel.asp
Recently voted best youth hostel in the world.
Can be booked by individuals, or groups. Various size rooms available
Burra Bridge End Outdoor Centre www.shetland.communities.org.uk/subsites/beoc
Approx. 14 miles from Lerwick.
Can hold over 30 people, but must be booked by single group. (minimum 6 persons)
Self Catering
Lerwick Self Catering Shetland (Multiple properties) www.selfcateringshetland.com
Shetland Accommodation www.shetland-accommodation.co.uk
King Harald Street Apartments (2 properties) www.kingharald.co.uk
Glover Lodges (2 properties) www.gloverlodges.co.uk
Gulberwick Hillside Brae Self Catering (Lerwick ~4 miles) www.hillsidebrae.co.uk
Scalloway Easterhoull Chalets (9 properties: Lerwick ~7 miles) www.easterhoull.co.uk
Cunningsburgh Glover Lodges (4 properties) www.gloverlodges.co.uk
(Lerwick ~10 miles) Gord Self Catering (2 properties) www.gordselfcatering.co.uk
Nortower Lodges (2 properties) www.nortowerlodges.co.uk

Fireball Shetland have a facebook page where we have some information already placed. https://www.facebook.com/fireballshetland
A very big thank you from Fireball Shetland to everybody who attended the 2014 Euros presentation tonight. We hope to see many of you in Shetland next summer.
Many thanks to our sponsors who so kindly gave us Shetland salmon (Lerwick Fish Traders), Shetland Beer (Valhalla Brewery) and Shetland oatcakes (Skibhoull Bakery) to hand out.
For those of you whom did not get a chance to see our presentation, we have a shorter length video posted on YouTube.