APS Homes Australian Championships 2017/18
7 January 2018
NEDLANDS YACHT CLUB - WESTERN AUSTRALIA
Final Results - John Heywood - Brett Littledike new National Champions!
The APS Homes 52nd International Fireball Australian Championships was held early January at Nedlands Yacht Club on the Swan River.  Although the number of boats that travelled to Perth were lower than expected, there was still plenty of excitement and close racing for all involved.
Nedlands was a perfect location for the fireballs, with grass rigging, easy launching and a 5 minute sail to the start.  Couple this with camping in the beautiful surroundings of the club and the traditional fireball "night life", made for a great week.
The first seven races were sailed in relatively light sea breezes of around 12-14 knots with either side of the course being favoured at different times.  In these conditions the boats were relatively close and John Heywood/ Brett Littledike and Heather Macfarlane/ Chris Payne duked it out to share the wins and minor places between.  Glenn Glenn Peverell/ Bruno Lanati also got into the act with a close 2nd in heat 3.
After a night out at Fireball legends, Gordon and Joy Lucas's, place and a day for sight seeing on the only day when we saw clouds, it was back to Nedlands for the final 3 races to decide the winner.  The 8th heat was sailed in a temperamental easterly which caused much frustration for the sailors.  After leading early, John/Brett slipped to 6th and Heather/Chris managed a win to square up the points.  Heat 9 finally saw a traditional "Fremantle Doctor" with 18-22 knots.  This gave Nick Gunner/ Simon Gunner a chance to show their heavy air speed and took an early lead. They were eventually run down by John/ Brett to take the win and have a 1 point lead before the last race.
Heat 10 was scheduled for 11 am to make it easier to pack the container, but the wind didn't settle so the boats had to stay ashore building up the excitement for the final showdown.  Eventually another great Fremantle Doctor came in, and another exhilarating race was run.  Again, Nick/ Simon were fast out of the box and took an early lead.  This time they were joined by Ben Schulz/ Tom Ainge and John/ Brett with Heather/ Chris further back in the fleet.  Heather/ Chris were desperate to find leverage on the course, but John/ Brett always had them covered and went on to a good win ahead of Ben/ Tom.  This gave John/ Brett their third Australian Championships, and their second win in Western Australia.  Ben/ Tom consolidated their clear third place and Nick/ Simon's result elevated them into fourth over their rivals, Scott Lidgett/ Jack Lidgett and Glenn/ Bruno, who had been inseparable all week.
Other standouts at the regatta were Lance Rock and Kevin Luff who were popular winners of the Ancient Mariner trophy having completed every race, including a 7th. Not bad for a 80+ skipper.
Jon and Elise Emonson, flew across from Queensland, and chartered a boat to an extremely consistent result with 9 * 7th place results, and were the first female crew.
It was also great to see Scott Lidgett back in the fireball for a "Rock Star" appearance sailing with his son Jack, finishing a credible 5th.  Hopefully we will see Scott get his own boat now.
The International Fireball Association of Australia is very indebted to APS Homes  for the support they gave to the class to ensure the regatta was a success.
The top two boats used quite different set ups with John / Brett using a Seldon - Alto mast with all sails from South Australian sailmaker Alexander Sails.  Heather/ Chris were sporting a Super Spar - M7 with Jib/Spinnaker from Victorian sailmaker Irwin Sails and mainsails from P&B and North Sails.  John/ Brett use their home built fireball and Heather/ Chris run a Winder fireball from the United Kingdom.
The class is now looking forward to continued close and exciting racing at the Royal Geelong Yacht Club at next years Nationals (February 2019).  The fleet is expected to grow substantially as fireball sailors around Australia start their campaign for the worlds in 2022 also at Royal Geelong .
Most Fireball associations around Australia have access to boats for people looking at trying before you buy.  Please contact the class secretary for more information - Matthew Carter - mattandhayley@LIVE.COM
 John / Brett powwering to windward  - photo copyright Andrew Munyard
| | | | | | | | | | | | | | | |
| --- | --- | --- | --- | --- | --- | --- | --- | --- | --- | --- | --- | --- | --- | --- |
| Place | Skipper | Crew | Boat | Net | 1 | 2 | 3 | 4 | 5 | 6 | 7 | 8 | 9 | 10 |
|   |   |   |   |   |   |   |   |   |   |   |   |   |   |   |
| 1 | John Heywood | Brett Littledike | 14786 - Renegade | 10 | 2 | 1 | 3 | 1 | 2 | 1 | 1 | 6 | 1 | 1 |
| 2 | Heather MacFarlane | Chris Payne | 15048 - Not Your Average Rockstars | 12 | 1 | 2 | 1 | 2 | 1 | 2 | 2 | 1 | 4 | 4 |
| 3 | Ben Schulz | Tom Ainge | 15062 - The Big Bang Theory | 24 | 3 | 3 | 5 | 3 | 3 | 5 | 3 | 4 | 3 | 2 |
| 4 | Nick Gunner | Simon Gunner | 15049 - Scattergun | 31 | 5 | 4 | 6 | 4 | 4 | 4 | 6 | 5 | 2 | 3 |
| 5 | Scott Lidgett | Jack Lidgett | 15072 - Low Rider | 34 | 6 | 5 | 4 | 5 | 6 | 3 | 4 | 2 | 6 | 5 |
| 6 | Glenn Peverell | Bruno Lanati | 14414 - Outback Dingos | 36 | 4 | 6 | 2 | 6 | 5 | 6 | 5 | 3 | 5 | 6 |
| 7 | Jon Emonson | Elise Emonson | 14526 - Midnight Rambler | 56 | 7 | 7 | 7 | 7 | 7 | 8 | 7 | 7 | 7 | 7 |
| 8 | Lance Rock | Kevin Luff | 14747 - Gattaca | 65 | 9 | 8 | 9 | 8 | 8 | 7 | 9 | 8 | 8 | 9 |
| 9 | Tony Schnaars | Matthew Sanderson | 14545 - Who's Pete | 68 | 8 | 9 | 8 | 10 | 9 | 9 | 8 | 9 | 9 | 8 |
| 10 | Luke Abbott | Alvaro Proietti | 14265 - White Shark | 84 | 10 | 11 | 11 | 9 | 11 | 11 | 11 | 10 | 11 | 11 |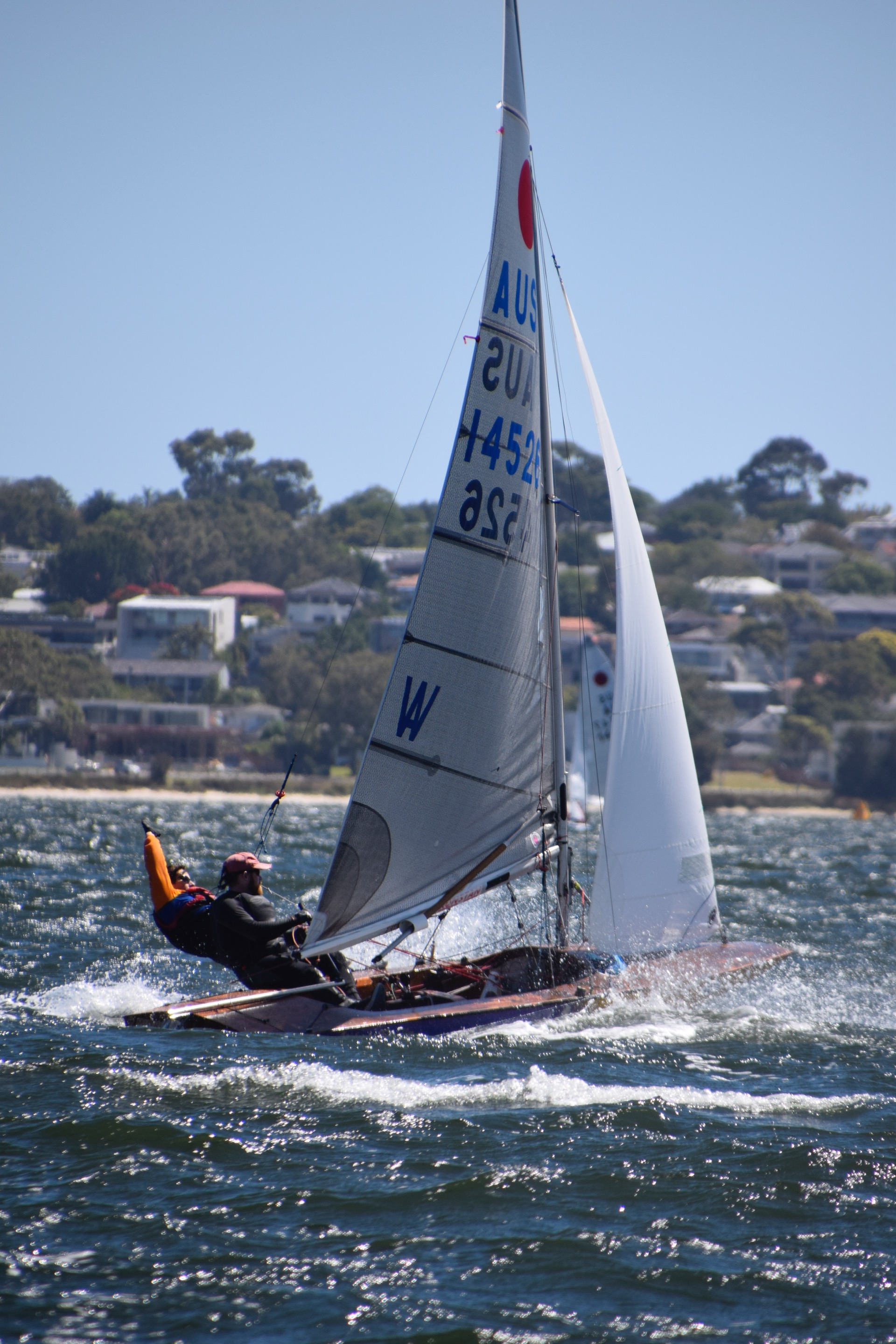 Jon & Elise Emonson - photo by Andrew Munyard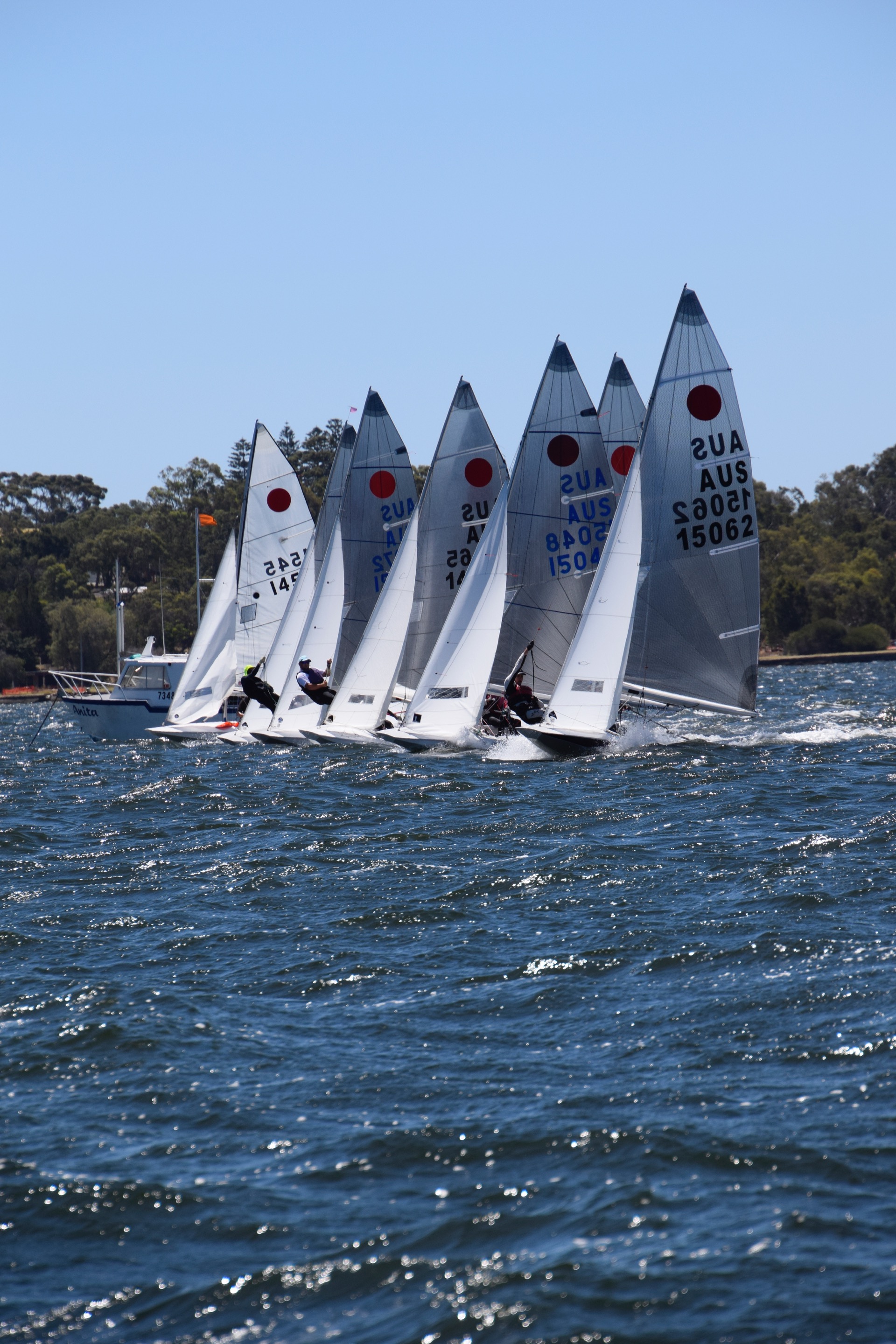 Close start - photo by Andrew Munyard